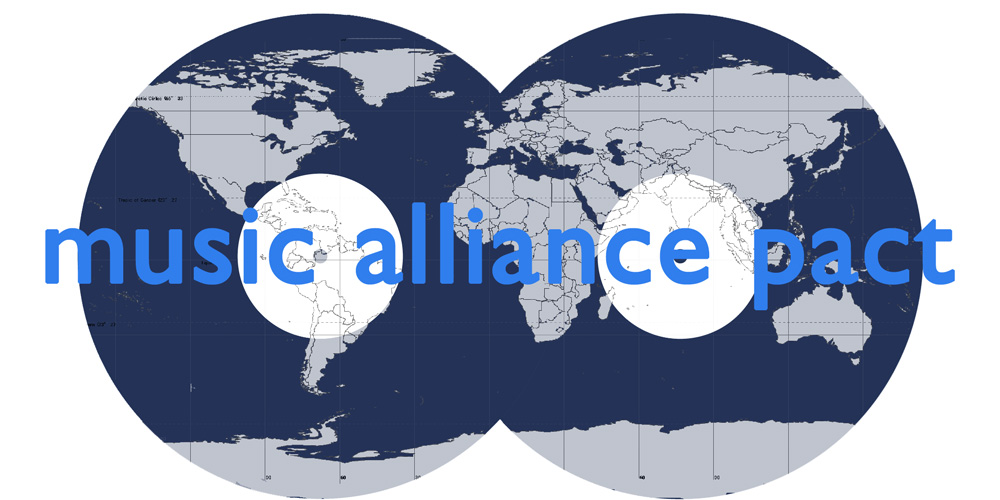 The April 2014 edition of the Music Alliance Pact sees my head turned by the ever-wonderful Neil Adams, whose latest endeavour 'Extra Fox' sounds like his other band The Cast Of Cheers strolling through a neon cityscape as part of a Sonic the Hedgehog cut scene. In other words, gorgeous. See the below 'Come Together' for a taster, or you can grab an entire album for a price of your choosing via his Bandcamp page. If you came for Neil, stay for the latest 27-track compilation which includes Peruvian rock legends 'Bondage' and a stunning Italian effort from the equally dubiously titled 'Flying Vaginas'. All for free, as usual. Why wouldn't you…
Click the play button icon to listen to individual songs, right-click on the song title to download an mp3, or grab a zip file of the full 27-track compilation through Ge.tt here.
IRELAND: Hendicott Writing
Extra Fox – Come Together
Neil Adams' Extra Fox is one of several current side-projects from Dublin scene heroes The Cast Of Cheers, a smartly bristling bedroom electronica aside. Taking elements of his math-rock mainstay's choppy style, Adams' charmingly skittish beats and soulful melodies nod towards the neon lights of urban Japan. The man himself credits Com Truise and "that feeling like you're inside an 80s video game" with inspiring a new thought process. The album is available on a pay-what-you-want basis on Bandcamp.
ARGENTINA: Zonaindie
The Plasticos – Marfil
This band from La Plata usually cites British rock acts such as The Kinks, Blur and The Stone Roses as their main influences. However, this track from The Plasticos' new album, Kilómetros, is one of our favorites because of its grungy sound that reminds us of the new Argentine rock movement from the late 90s. You can listen to the album on Bandcamp.
AUSTRALIA: Who The Bloody Hell Are They?
Dianas – Dix
There are moments when all you want to do is kiss the guy who invented the internet. Such is the case when one Bandcamp tag after the other, we stumbled upon Dianas, a trio from the distant city of Perth. Dix is a dreamy drone-pop tune with all those floral notes typical of Scottish indie; kind of like what Camera Obscura might have sounded like on a hot summer's night in Western Australia.
BRAZIL: Meio Desligado
Isaar – Tudo Em Volta De Mim Vira Um Vão
Sort of a sad waltz, Tudo Em Volta De Mim Vira Um Vão is taken from Isaar's new album, Todo Calor (roughly translated as "All The Heat"). Originally from Recife, one of Brazil's most prolific cities, Isaar shows her strong influences of local culture such as frevo, maracatu and manguebeat, but also flirts with pop music and other contemporary artists like Siba and Orquestra Contemporânea De Olinda.